Zack Pitchford
Landscape Consultation
My work focuses on central and southwest Florida plant material, with an emphasis on coastal habitats and inspiration from Craig Reynolds, LA.
My close ties to the coastal regions of Florida keep a continuous area of independent study, identifying plants in the wild and how they may work in a built landscape to mimic their environmental importance and beautify the landscape. Utilizing a combination of natives, edibles, and sterile exotics, I strive to develop a landscape unique to each client that not only has a function of beauty, but more importantly gives back to the environment providing food, shelter and habitat for local flora and fauna.
My goal is that through native plant integration into our communities, we will preserve and sustain a natural and functioning element of our environment and enjoy all it has to offer for years to come in the form of fishing, exploring, hiking, camping, and observation.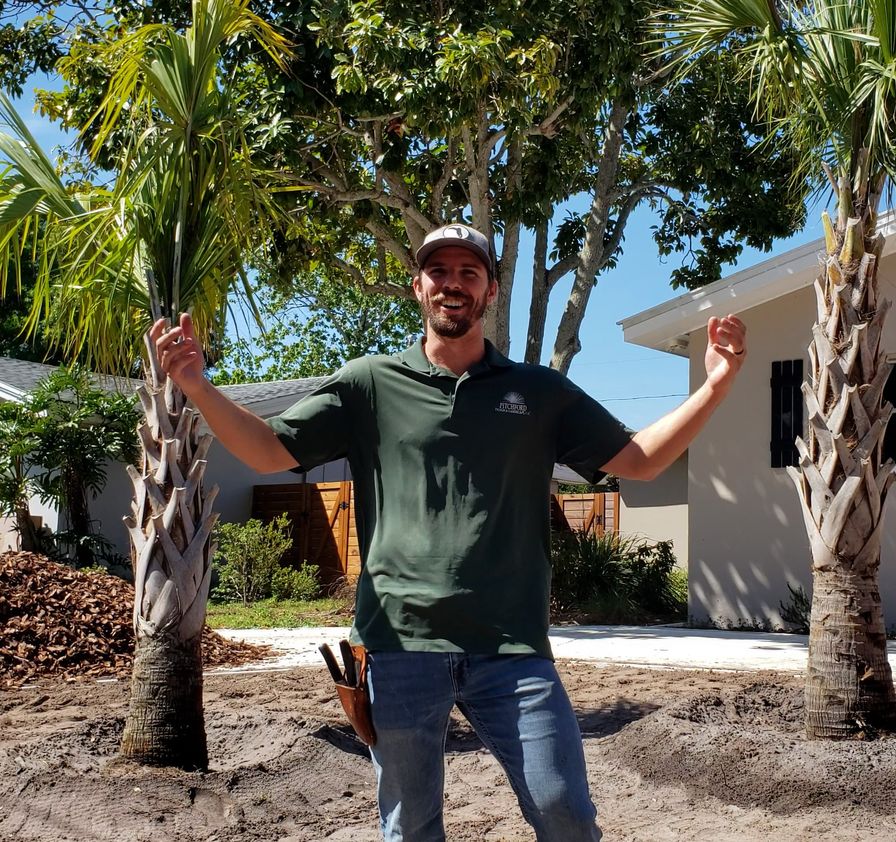 Project description: This project is located in the Largo Bluffs area; what a transformation from a filled in pool to a terraced outdoor living area surrounded by native plants. We were challenged to create patio expanse on a slope that did not feel too large and overwhelming, but could accommodate ten or more people comfortably. This was to then be surrounded by plants native to Florida.
To break up the patio expanse, we settled on a raised planter that would fit an arrangement of Yaupon Holly and some groundcover. This would aid in separating the patio into two areas and reduce the "heat island effect" of too much hardscape in one area against the foundation. With this in place, we tiered the landscape down from there, creating a small network of shell paths that would include a seating area within the landscape.
Plant material selection was made to attract birds and pollinators to the yard. We certainly hope to attract some Ruby Throated Hummingbirds with the abundance of Firebush, Tropical Sage, and Coralbean.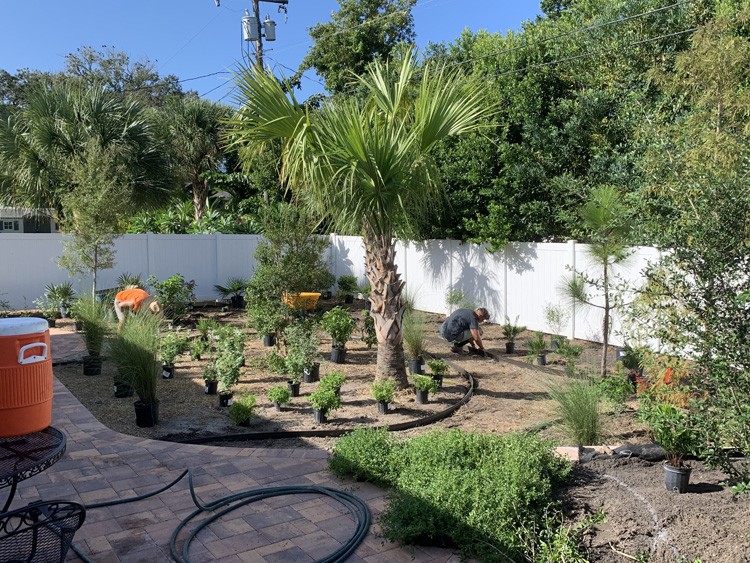 Other Landscape Design Projects
As a born and raised Floridian spending so much of my younger years outdoors, I have always had a keen interest and appreciation for nature. Growing up, our family spent summers boating to the keys or spending time at the beach and cooler months camping and hiking. As a millennial in the beginning of the technological boom, my parents kept the house void of much technology other than a single television in the family room. With little to do inside, my siblings and I grew up playing outside, trekking through the local swamps and woods that connected neighborhoods, biking, running, and climbing trees. This helped engrave an ambition to be outside and stay connected to nature, something I would later understand.
Aside from school, my high school years were filled with much of the same activities but also included my first job, at a former retail nursery called Beckett Lake Nursery. After the nursery shut down due to the tanking economy, I found myself at Wilcox Nursery, and was introduced to the growing native plant community.
With the opportunities to work with the landscape crews integrating plans, and time in the nursery working with customers to find the perfect plant, my desire to work in the landscape was born.
I left the nursery and set out to the University of Florida where I secured training and a degree in Landscape and Nursery Management, with an emphasis on design that also secured a minor in Landscape Architecture, in 2012.
I found my way back to Wilcox Nursery where I could utilize this new training in the landscape industry. But beyond just using these new skills, I believed in the work Wilcox Nursery is doing to promote the use of native plants in the landscape. In a time where mass development and crowded populations dominate so many ecologically important areas, the need for native vegetation and habitat might just help to offset the negative effects that the latter causes.
I took a brief hiatus to travel off and on from 2014-2018, exploring areas of the Caribbean and later eastern and southern Texas. I never stopped designing and studying the landscapes I found myself in. In the Caribbean I led hikes through the mountains to show natural watersheds and views of the island. I also led paddleboard tours where the coastal areas could be explored and appreciated.
In Texas, I worked on a team trekking through untouched forest documenting trees, caves, and wildlife for government analysis. I was also responsible for leading the maintenance and development of the native gardens at Stephen F. Austin University. But my love for the coast and Florida brought me back to the Wilcox Nursery family.
Schedule Your Consultation Today!
We will provide the expert guidance to help you select the right plants to achieve your vision and at your level of care and upkeep so that your garden or landscape thrives.
The price for a residential consultation varies based on size of the property and scope of the project, but typically start at $95. Commercial consultations are quoted based on size of the property and scope of the project, and are given by the designer before the consultation. Our designers will inform you of all fees prior to the appointment. We look forward to delivering a new sustainable landscape design that fits your needs, timeline, and budget.