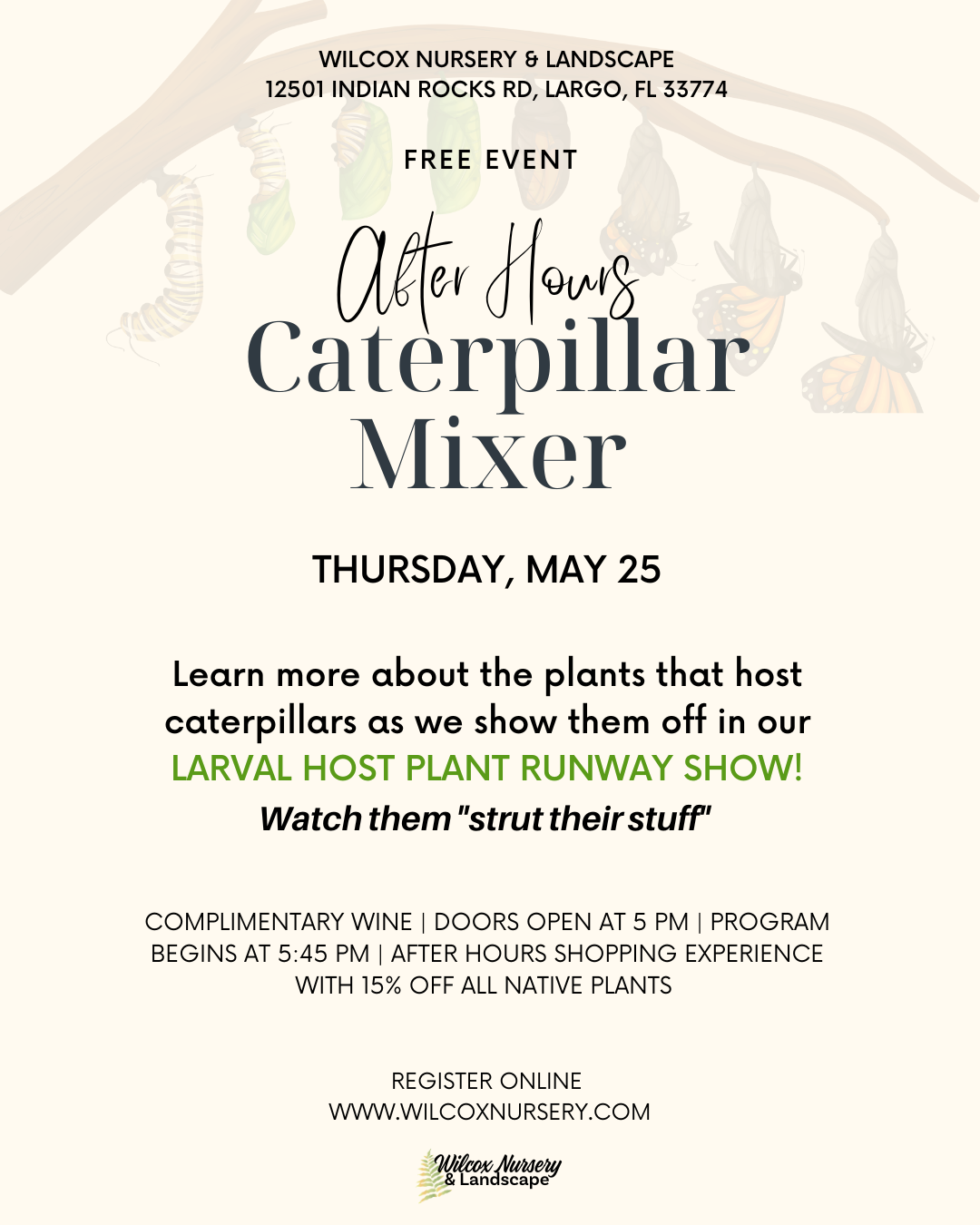 Caterpillar Mixer: Larval Plant Runway Show
Join us at Wilcox Nursery on Thursday, May 25th for our third Caterpillar Mixer of the year! At this after hours event, we will be showcasing the best of the best larval host plants in our Runway Show! Watch them strut their stuff down the cat(erpillar) walk, learn about what makes them beautiful and what butterflies and moths might be making a name on these plants. Join us in finding out Pinellas County's next Top Lepidoptera! Wilcox Nursery's Annual Spring Festival RECAP
In support of the West Klosterman Preserve
Our Spring Festival was a huge hit! From the speakers to the activities, local organizations to vendors, the day was packed with fun! A big thank you to all who came out and supported us and the West Klosterman Preserve. Thanks to your patronage, Wilcox Nursery will be donating $2543.14 directly to the preserve efforts. Thank you to all who attended, and especially those that supported WKP!
Did you miss the event, but still want to contribute? Click the button below to make a donation to

save the WKP!
Weren't able to attend? Want to get a snapshot of the festival? See the highlights below!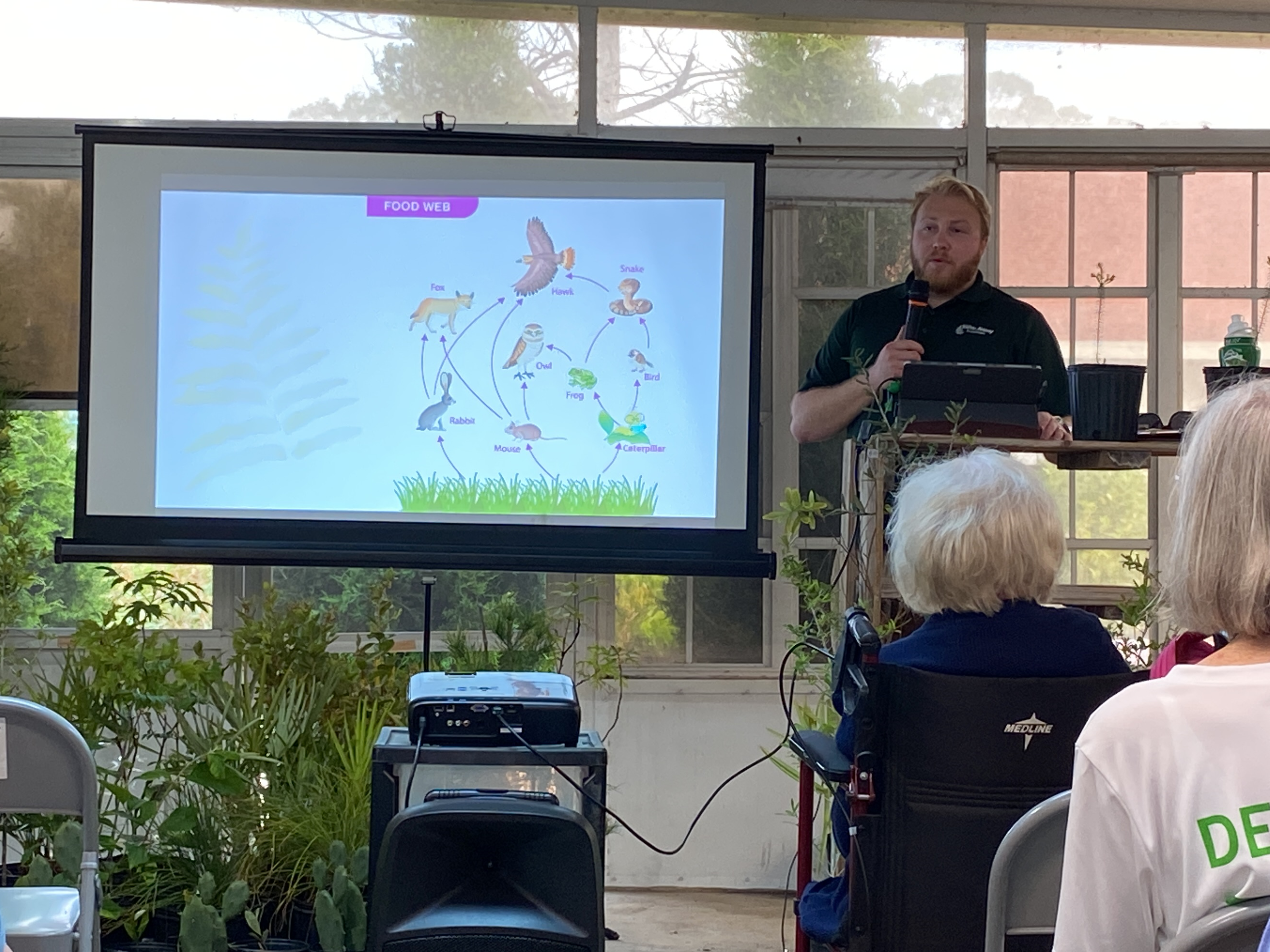 Davis Byrkit, General Manager of Wilcox Nursery, talked about Wilcox's 2023 theme: The Year of the Caterpillar. The theme talks about the importance of caterpillars as a part of ecosystems, and transitioning that principle into urban landscapes.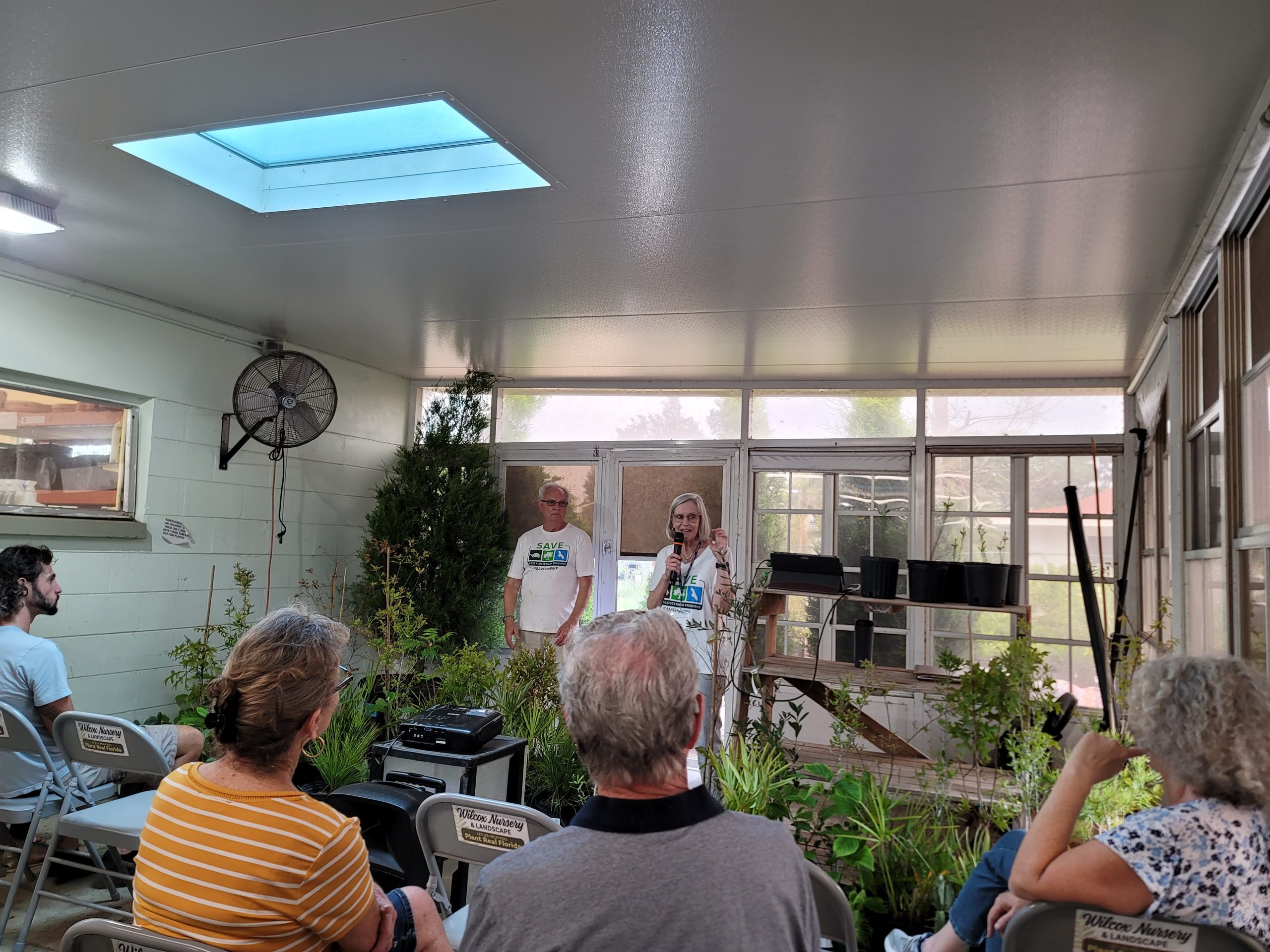 Tex and Kay Carter, President and Director of Operations of WK Preservation Group, talked about the history of the West Klosterman Preserve and the steps they are taking to raise money and save it.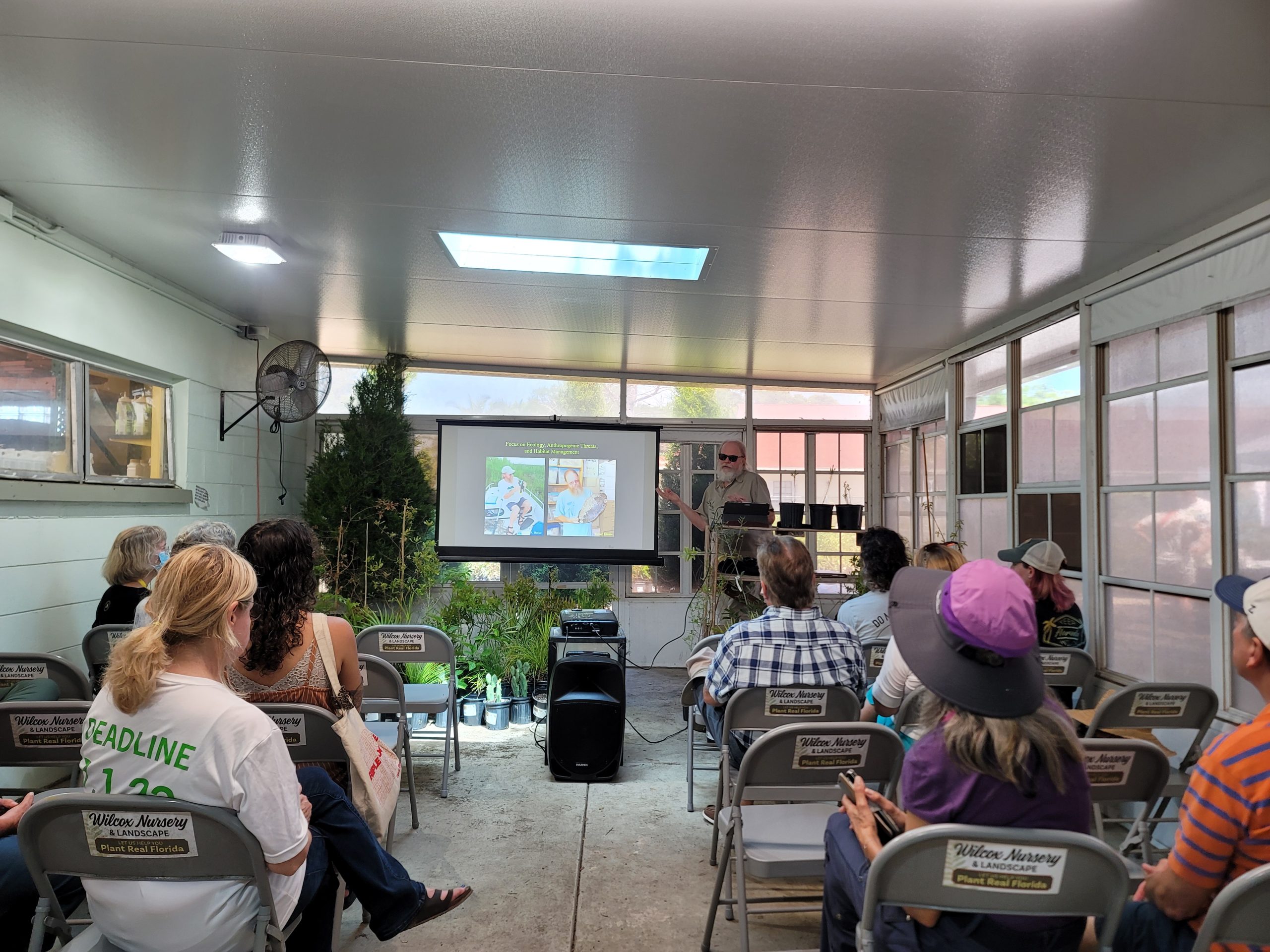 George Heinrich of Heinrich Ecological Services gave a wonderful program on Gopher Tortoises and the research that has been conducted at Boyd Hill Nature Preserve. 
Native or Not Competition
Looking to test your native plant mettle? Step right up to our Native or Not booth! Your task will be to separate a selection of plants into two groups; native or not.  This event is ongoing throughout the day, so be sure to stop by and give it your best shot! Two tickets to enter. Prize for completion is a 10% off coupon for Wilcox Nurery's online store.
Check out our second annual weeding competition at our Spring Festival! The name of the game is to weed your plants! Contestants have 60 seconds to weed the pots completely. First, second and third places get prizes! It was a fierce competition this year, but be on the lookout for next year's event!
The WKP booth will have scavenger hunts for kids to complete. This light scavenger hunt contains things commonly found around the nursery and completed hunts can be turned into the booth for a free pack of native wildflower seeds! Scavenger hunts given for donations of any amount at the WKP booth. No tickets required to participate.
Larval Host Plant Scavenger Hunt
We will have an ongoing larval host plant scavenger hunt! Entrants will be given a list of latin names for larval host plants, and will have to scour the nursery to find the common names and mark them down. Completing the entire hunt correctly will net you a $10 Wilcox Nursery gift card! Scavenger hunts given for donations of any amount at the WKP booth. No tickets required to participate.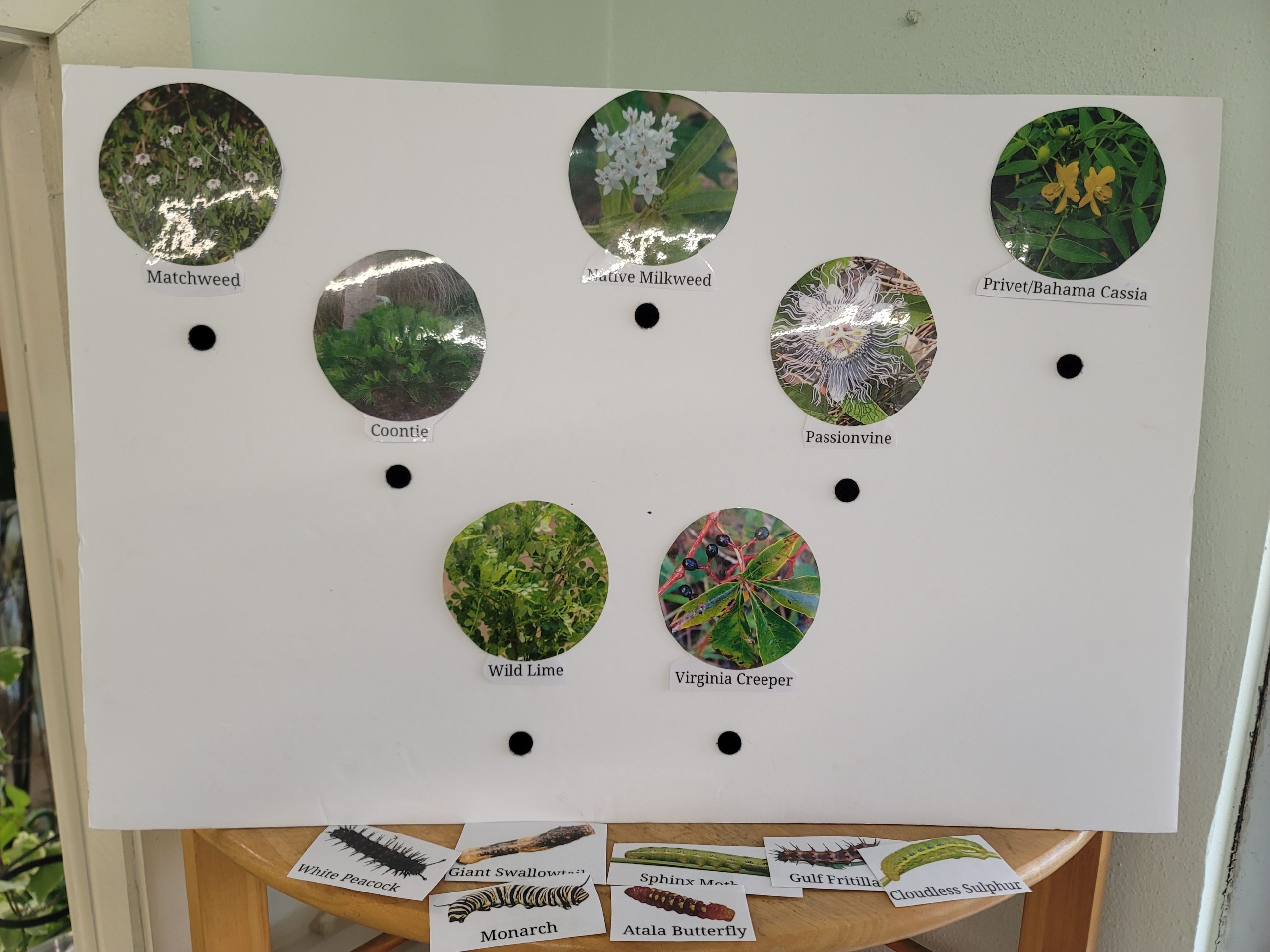 At this booth, we will have a grouping of caterpillars that need to be matched with their host plants. There are common and uncommon groupings, for beginners and experts alike. Are you ready to take on the challenge? One ticket per play. Prizes: 5% Wilcox Nursery online store coupon for common, 15% for uncommon.
Invasive Plant Identification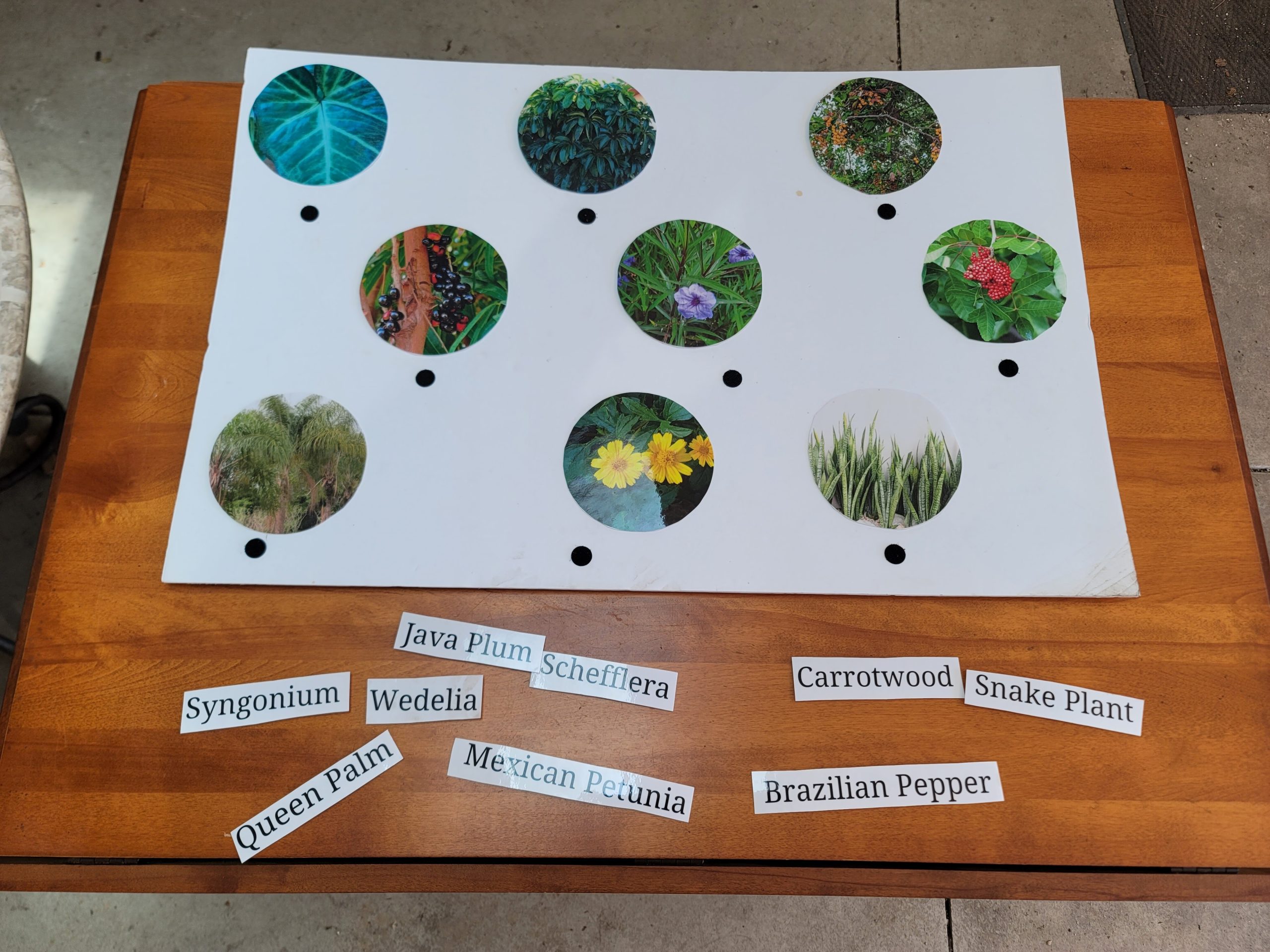 Want to test your invasive plant ID skills? Step right up to our booth! Take a stab at identifying some of the nastiest invasives for a chance to win free plants. One ticket per play. Correct entries will be entered into a chance to win.