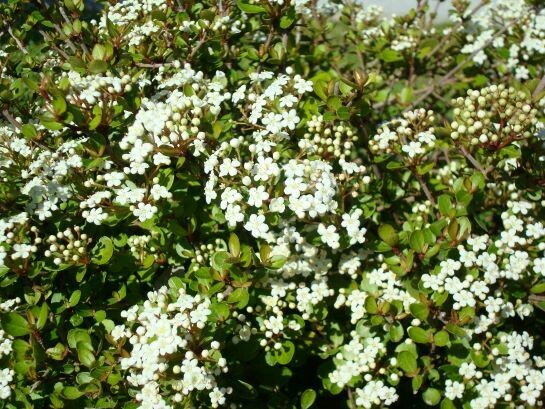 Walter's Viburnum
00054
Product Details
Walter's Viburnum, Viburnum obovatum, is typically a large shrub or small ornamental tree. Showy white flowers appear in February and March, while the new season leaves are developing. The flowers are followed by reddish fruits which later turn black and provide food for wildlife. Walter's Viburnum is Florida's most common native Viburnum naturally distributed through much of central and north Florida. It is adapted to full sun to filtered lighting and is cold hardy throughout Florida.
Dwarf cultivars (Densa, Mrs. Schiller's Delight, Snow Fury, Everleaf) are great native replacement for Dwarf Indian Hawthorn and will tolerate wetter conditions. Multiple dwarf cultivars of this native shrub are great for any type of application in a landscape that a short version (3'-5' tall) of this species is desired.
The larger forms (Withlacoochee, Whorled Class, Select) of this plant are notorious for not only the showy flowering, but also the branch structure that songbirds gravitate to for nesting.
Save this product for later