Arnie Rutkis
Landscape Designer
Designer Arnold Rutkis focuses on designing with native Florida plants, mixed perennial meadows, grasses, unique edible landscapes, fragrance gardens & pollinator/habitat support gardens.
A sense of order and structure in his designs is achieved with the use of stone, subtle grading and layering of plant material and allowing for seasonal changes in the landscape. Mulches like pine straw and Florimulch are native to Florida and make up a large part of the finished product as well.
Arnie offers design, consultation and installation services with appropriate plant selection based on your specific location and site requirements.
His hardscape design and install services include
water features,
stone walks,
rock edging,
aggregates like pea gravel and
sculptural accents.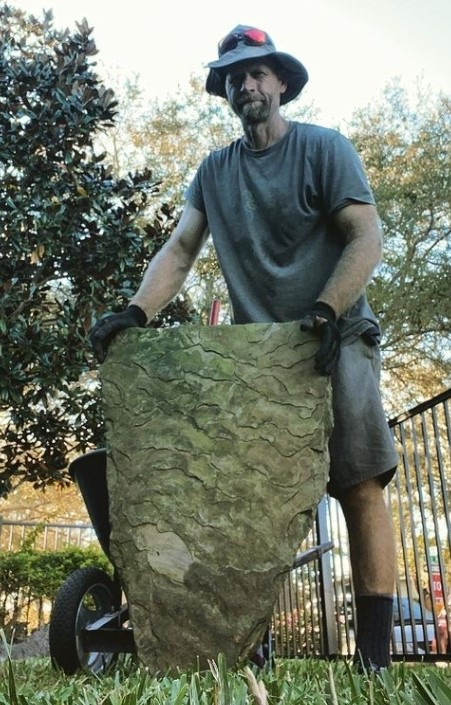 The Driftwood neighborhood in St. Petersburg has long been known for its beautiful canopy trees like Pines and Oaks. However, it also wrestles with a host of invasive species, which can pose many problems for the average homeowner and their landscape. This project in particular involved a lot of invasive removal, but included a planting of incredible diversity across the entire property. From coastal zones close to the bayou to more inland gardens around the foundation, this yard is a prime example of the diversity that a native yard can achieve. Design, demolition and installation by Arnie Rutkis.
Having completed both a BFA and MFA in sculpture allows a unique perspective infused with a creative approach while completing programs like Florida's GI/BMP certification help to ground decisions in a practical horticultural basis. His artwork is also in many private collections.
With over 22 years of practical experience in the horticulture industry as a greenskeeper, installer, designer & plant propagator among other things his blend of science and art lives on in his gardens big and small.
For 10 years he worked with the BSC Southern Environmental Center in Birmingham AL designing and co-creating Eco-scape gardens with other artisans. These community gardens were used to beautify, educate and provide a sense of habitat restoration within the confines of the urban areas of greater Birmingham. Several helped preserve valuable habitat for Darters, small freshwater fish in imperiled waters others focused on art and rethinking public spaces.For more info refer to https://www.bsc.edu/sec/ecoscapes.html.
He has presented lectures focusing on native plants & edibles to various conferences including
Florida Wildflower foundation,
FANN,
FNPS Pinellas chapter
Master gardener meetings in Florida and Alabama
Central South Native Plant Conferences.
Currently residing in St Petersburg Florida, he hails from Connecticut. Find his work on Facebook or Instagram @stonehut and his website www.stoneshovel.com.
Schedule Your Consultation Today!
We will provide the expert guidance to help you select the right plants to achieve your vision and at your level of care and upkeep so that your garden or landscape thrives.
The price for a residential consultation varies based on size of the property and scope of the project, but typically start at $95. Commercial consultations are quoted based on size of the property and scope of the project, and are given by the designer before the consultation. Our designers will inform you of all fees prior to the appointment. We look forward to delivering a new sustainable landscape design that fits your needs, timeline, and budget.