Now that the dog days of summer are a thing of the past and the snowbirds have started rolling in again, we can take a moment to look back at an amazing event that happened this summer. Those who stuck out the steamy Florida summer had the opportunity to enjoy a truly inspiring community-oriented ecological action event in the Crescent Heights Neighborhood of St. Petersburg.
The Ocean Friendly Gardens program in Crescent Heights started in June when the Surfrider Foundation's Suncoast Chapter Chair and Past President of the Crescent Heights Neighborhood Association, Thomas Paterek, applied for a City of St. Petersburg matching grant for neighborhoods aiming to build relationships and improve the community. Thomas, who currently sits on the board of the Crescent Heights neighborhood association, board of Crescent Heights, which is just north of downtown St. Petersburg, took advantage of the grant opportunity made available by the city. "The ability to bring multiple nonprofits, our city and residents together for a project to promote sustainable practices was a really exciting opportunity," Thomas said. Crescent Heights is a historic neighborhood just north of downtown St. Petersburg and enjoys a strong community vibe and active board already, which made it a prime candidate for a neighborhood-wide project such as this.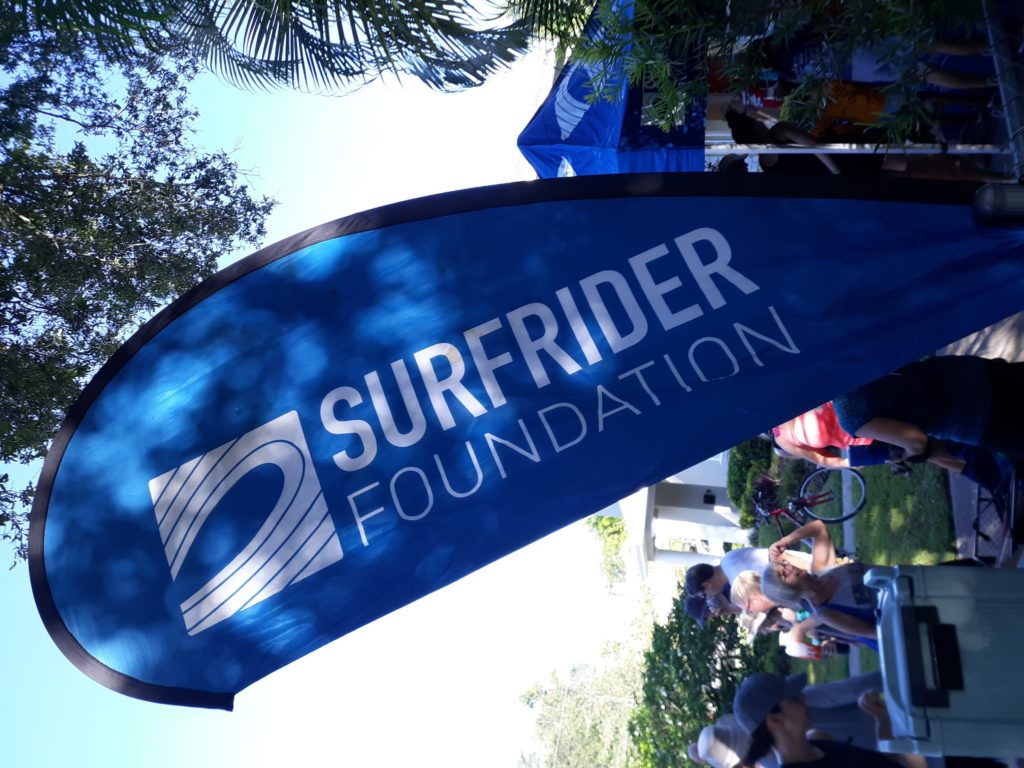 The Surfrider Foundation is an environmental advocacy group that was founded by surfers in 1984 and has chapters around the country and the world. Their Ocean Friendly Garden program promotes several sustainable gardening practices including retaining rainwater; "creating living soil to sponge up water, filter pollution and sequester carbon; and installing climate-appropriate plants to create wildlife habitat and a sense of place." All of these goals were actions that Wilcox could get behind.
Their idea was to take underused or overgrown corner lot triangular patches, of which there were 40 chosen throughout the neighborhood, clear them of weeds and debris, and replant them with beautiful native plants. The native plants that Wilcox Nursery and Landscape designer, Arnie Rutkis, chose included coonties, muhly grass, coreopsis, matchweed, dune sunflower, and others. These plants are hardy, drought-tolerant, adaptable, and put down deep roots, all characteristics that advance the goals of the Ocean Friendly Garden program. These installations would be completed by local volunteers and supported by the city and the community.
One might think that people concerned with ocean health would concentrate on the ocean, or at least the beach! However, as we have seen time and time again our canals, rivers, beaches, oceans and wetlands are intimately and vitally connected to our uplands, coastal ecosystems, and suburban and urban neighborhoods. This happens through rainwater carrying pollution runoff over impermeable concrete, plastic trash going down the gutter, and excess nutrients from overfertilization of lawns. When it comes to water, everything is connected! In such a flat wet state as Florida, these relationships are even easier to see.
While there are still millions of acres of wildlands, rangelands, agricultural lands, as well as the Everglades, humans are rapidly developing these lands. This includes paving over them, building thousands of large homes, and connect these developments with roads and highways. Development prevents water from naturally percolating through the soil, and runoff generally goes through chemically intensive landscaping, making the runoff water a carrier of pollution. Runoff further carries roadway pollutants like oil, brake dust, asphalt, and other pollutants. According to Surfrider Foundation, water pollution is the number one source of ocean pollution in urban areas.
In response to this problem, they have developed the Ocean Friendly Gardens Program (OFG). The program seeks to educate anyone interested in how to plant and maintain a piece of land, home landscape, median, traffic circle, or any piece of dirt within a city for water health. Additionally, they say that an OFG applies CPR – Conservation, Permeability, and Retention.
This is where Wilcox Nursery and Landscape designer Arnie Rutkis and native plants come in to play the starring role. The goal of creating habitat, fostering a sense of place, and solidifying and holding together soil with native plants was the obvious choice. 
Arnie Rutkis is the owner of Stone Shovel Design, a landscape design and installation company specializing in native plants, design, stonework, and water features. He has been a designer and installer with Wilcox Nursery and Landscape since moving here from Birmingham, Alabama.
Thomas said he had known what a native plant was, "but did not know the diversity available to Floridians, I thought there were just a few bushes available, not flowering plants. The biggest eyeopener was the native plant list Arnie sent.t was mind-blowing the amount of native plants that you can use."
Arnie's initial reaction to Thomas and the idea of OFG's was, "Curiosity mostly, as I did not quite know what the scope of the project would be, then excitement as this type of project touches on some very important issues we are dealing with these days. Thomas's connection to Surfrider Foundation piqued my interest as well, so I immediately did some research on Ocean Friendly Gardens. It seemed like a perfect fit for me and Wilcox!"
Arnie brought to this project a wealth of experience from years of design and installation work in Florida, Alabama, and time spent as a student of art and design. In a neighborhood like Crescent Heights, where there are so many eclectic and historic homes, the design of these small medians had to follow many different guidelines. Arnie used his experience to coalesce all the goals and larger purpose and presented a plan to the neighborhood.
"I have worked on this scale before on public garden projects with multiple partners and in an ecological context. It's definitely challenging, but it gets me to focus better in some ways as it is a garden that many people will see and interact with," Arnie said.
As part of the project and a requirement of the grant, Arnie also interacted with a crowd with lots of questions about the plants he selected at the Neighborhood Association's town hall-style meeting. "It was very good to share my approach and discuss the plants that Wilcox has to offer, their many benefits, and versatility, especially within these tough semi-urban areas, and how they blend with the ocean-friendly approach to gardening."
After the plans were set in motion and the plants were delivered and set out by Arnie and other crew members, the volunteers were ready to step up. As a project with multiple partners, it's easy to imagine certain unique challenges that can arise, and there were definitely surprises encountered by Arnie and all those involved.
"Logistics are always a challenge with such a dispersed job site but planning and breaking it up into two steps helped." Arnie and crew prepared the locations one day and the second day was the big volunteer effort to install all the new native plant gardens throughout Crescent Heights.
"The volunteers were key in keeping everything moving along." And because education is key, Arnie taught the volunteers a crash course in planting natives before they set out on foot and bike to plant around the neighborhood. "This project was truly a lesson in the beauty and functionality of the native plants, and folks got right on board!" Stated Arnie.
To ensure the success of the gardens, the weekend of the install was only part of the project and follow up was also needed.  "Proper plant selection is a large part of the approach here.  Drought resistance and the ability to adapt are why I chose the specific plants. To establish them properly we just needed to ensure they get consistent watering in times of drought throughout the first season. We are doing follow up checks through the next few months to make sure things go well," Arnie states.
Four months into the project, all of the plants have been watered in and established, and the OFGs are doing well. Outside of the occasional errant curb hopping car wheel, these plantings are accomplishing the goals that were set out for them and will be ready to absorb the next summer's rains, decrease runoff, provide habitat, and beautify the neighborhood.
Thomas summed the event up well by saying, "This is the planting of the seed, the idea is to create an awareness to create an individual that sees there are better ways to do things, I hope the collaboration of Surfrider Foundation, Wilcox and the community will show people that they have the power to do something like this. "He further stated, "We wanted to inspire other neighborhoods, the city, the state and other people to do these best practices. It's one thing to talk about it and another to actually make it tangible on a large scale, it creates a buzz and an awareness, if we can create it on a neighborhood scale, we can certainly accomplish it on a much larger state scale."
As further proof of the wide-reaching influence of the project, City of St. Pete Mayor, Rick Kriseman, and city council member, Darden Rice, honored the gardens with a ribbon-cutting ceremony. They both were proud of the community action that took place through this project and expressed an interest in seeing more community projects like this throughout the city.
Additional Resources:
Visit WilcoxNursery.com for additional information and call 727-595-2073 for additional questions on native plants including design, installation, maintenance and other issues. Follow us on Instagram @wilcox_nursery and on FaceBook.
Surfrider Foundation Suncoast Chapter: https://suncoast.surfrider.org
Thomas is currently the Surfrider Foundation – Chair of the Suncoast Chapter, and a past President of the Crescent Heights Neighborhood Association.
Arnie Rutkis is active on his Instagram account and he can also be contacted through Wilcox Nursery and Landscape
The city of St. Petersburg Grants can be found here:http://www.stpete.org/assistance/grants_and_contracts/internal_grants_program.php
Nutrient runoff has been explicitly connected to blue green algae in freshwater and saltwater systems.https://www.tampabay.com/florida/2019/07/09/five-things-to-know-about-blue-green-algae-yeah-its-bad-and-its-getting-worse/.
They are not directly responsible for already naturally occurring red tide outbreaks, but nutrients can go into coastal waters which can exacerbate an already existing Red Tide bloom which usually develops 10-40 miles offshore. https://myfwc.com/research/redtide/faq/