As in nature, so also in gardens and commercial landscapes, water is a crucial factor for plant growth. The absence of adequate rainfall or irrigation for a period of time can lead to drought stress, which can reduce plant growth. Drought stress happens when water loss from the plant far exceeds the ability of the plant's roots to absorb water and when the water content drops low enough to hamper normal plant processes. Even though Florida gets an annual average of over 50 inches of rain, plants in the sunshine state may encounter drought-stress between rains year-round.
How Does Drought Stress Affect Plants?
When plants do not get enough water, they stop growing. Plants react by cutting down on photosynthesis and other plant processes so as to reduce water usage. With progressive water loss, leaves of some plant species also can turn pale or brown. Foliage often withers away and, if the plant is not irrigated, the plant does eventually die.
Most of Florida's rain falls between the months of May and October so plants have to deal with dry weather the rest of the time. Check out the map of the U.S. Drought Monitor for Florida to see if your area is considered to be in severe drought condition. Moreover, with water restrictions in place permanently and with limited and stressed water resources, many home gardeners prefer to use drought-tolerant plants in their landscape to reduce the likelihood of plant injury during dry weather. Wilcox Nursery & Landscape has drawn up a list of beautiful plants that are not only beautiful but drought-tolerant too.
List Of Drought Tolerant Plants
These landscape plants can tolerate drought stress better than most others, but new plantings will still need regular watering for 6 weeks to one year (depending on species) or more, until they become established. Trees that are larger than two inches caliper will take longer to establish. Use this short list to choose drought-tolerant plants that are just right for your garden and property.
1. Firebush
Hamelia patens or Firebush is an easy to grow shrub that is extremely colorful with tube-shaped yellow-and-orange flowers and is a favorite among butterflies and hummingbirds! Native to Tampa Bay, the Firebush can be grown with other butterfly-attracting annuals or perennials in garden beds or borders or even in containers. It is a great companion plant with native Pityopsis grami. (See Firebush on our online store here)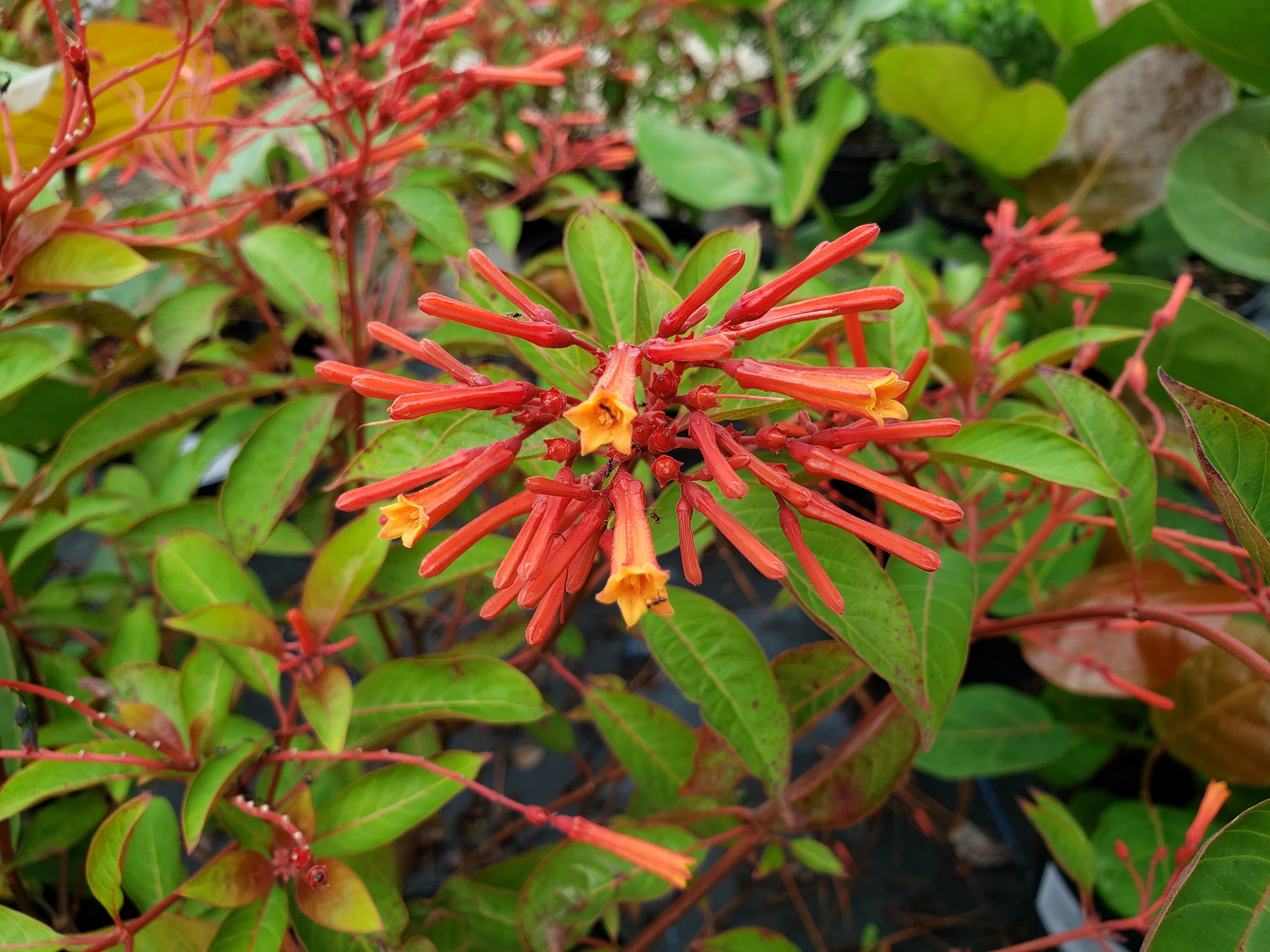 2. Beautyberry
Callicarpa americana or Beautyberry grows to about 5-9 ft. tall and produces delicate lavender flowers and clusters of highly decorative purple berries in late summer and fall. Beautyberry is very easy to grow and this drought-tolerant shrub prefers well drained soil and full sun or light shade. (See Beautyberry on our online store here)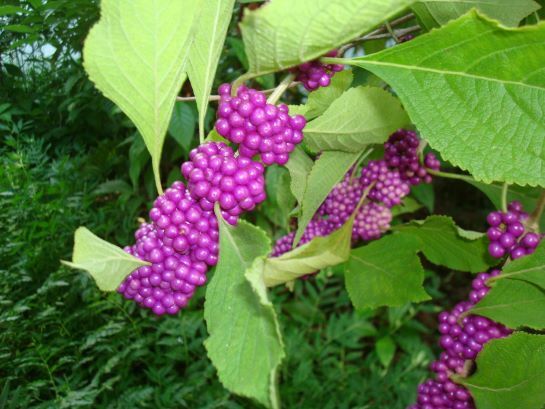 3. Buttonwood
Buttonwood (Conocarpus erectus) is a drought-tolerant Florida native plant with leaves. These landscape plants can be used as stunning hedge, accent or small tree. The silver form is popular for the foliage, color and contrast. Read this article to learn more about plant care for Buttonwood. (See Buttonwood on our online store here)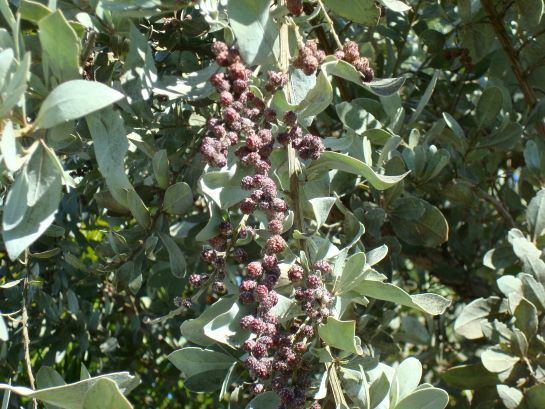 4. Saw Palmetto
Serenoa repens, better known as the native Saw Palmetto, is ideal for growing in the Florida yard as it can withstand the driest of conditions. It is especially great for highly salt exposed yards. This palm grows 4-12 ft. tall, with fan shaped leaves that may be 1 1/2 to 2 ft across with sharp, saw-like teeth, along the petiole. It will thrive in sun or shade. The silver / blue form is popular for the foliage contrast. (See Saw Palmetto on our online store here.)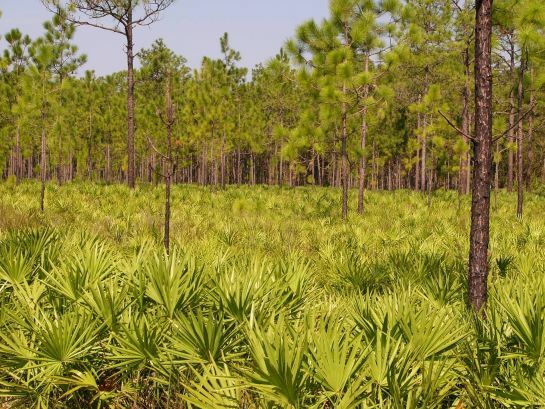 5. Longleaf Pine
Longleaf Pine or Yellow Pine (Pinus palustris), is a classic, once dominant pine of the Southeast with a thick, reddish-brown, and scaly bark. This stately pine tree reaches 80-100 ft. and develops a dense and majestic crown as the tree matures. This magnificent tree has graceful, long needles; likes the sun and prefers well drained soil. The needles provide a gold standard in mulch and the trees are very beneficial to wildlife. (See Longleaf Pine on our online store here.)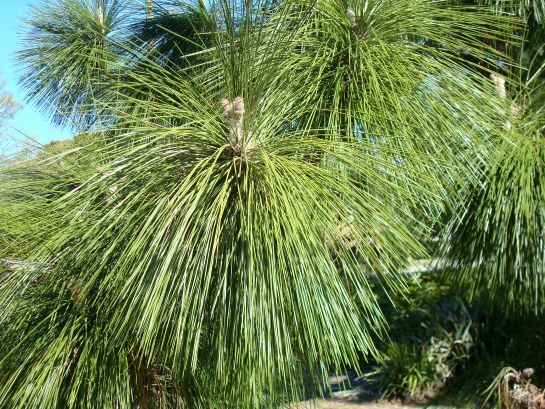 6. Spiderwort
Spiderwort (Tradescantia virginiana) is a Florida native perennial that grows upright 1 to 2 ft. in height. It displays clumps of showy blue, three-petaled one-inch flowers on top of the stems. With a long blooming season through spring, this plant likes sun or shade. Cut it back after heavy spring bloom and they will continue to bloom through summer and fall. (See Spiderwort on our online store here.)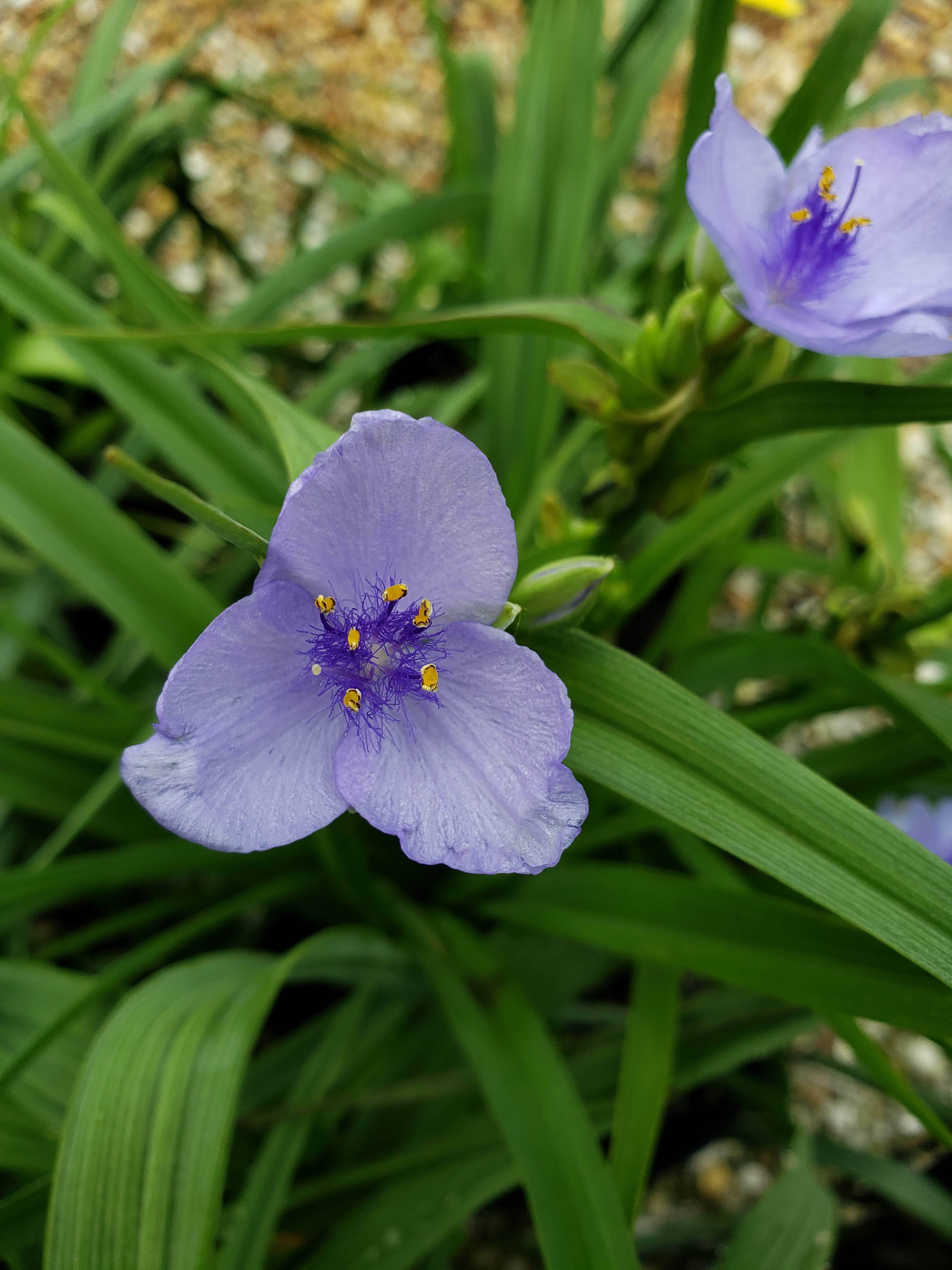 7. Sea Grape
Sea Grape (Coccoloba uvifera) is quite a drought-tolerant evergreen, ranging from a low shrub along coastal areas to a tree up to 35 feet high in more frost-free growing conditions. Sea Grapes have large, leathery, stiff and roundish leaves from 4 to 8 inches wide that are silky bronze to wine red when young; later maturing to dark green with prominent veins. It produces an abundance of small, white, fragrant flowers on long racemes in late spring or early summer. (See Sea Grape on our online store here).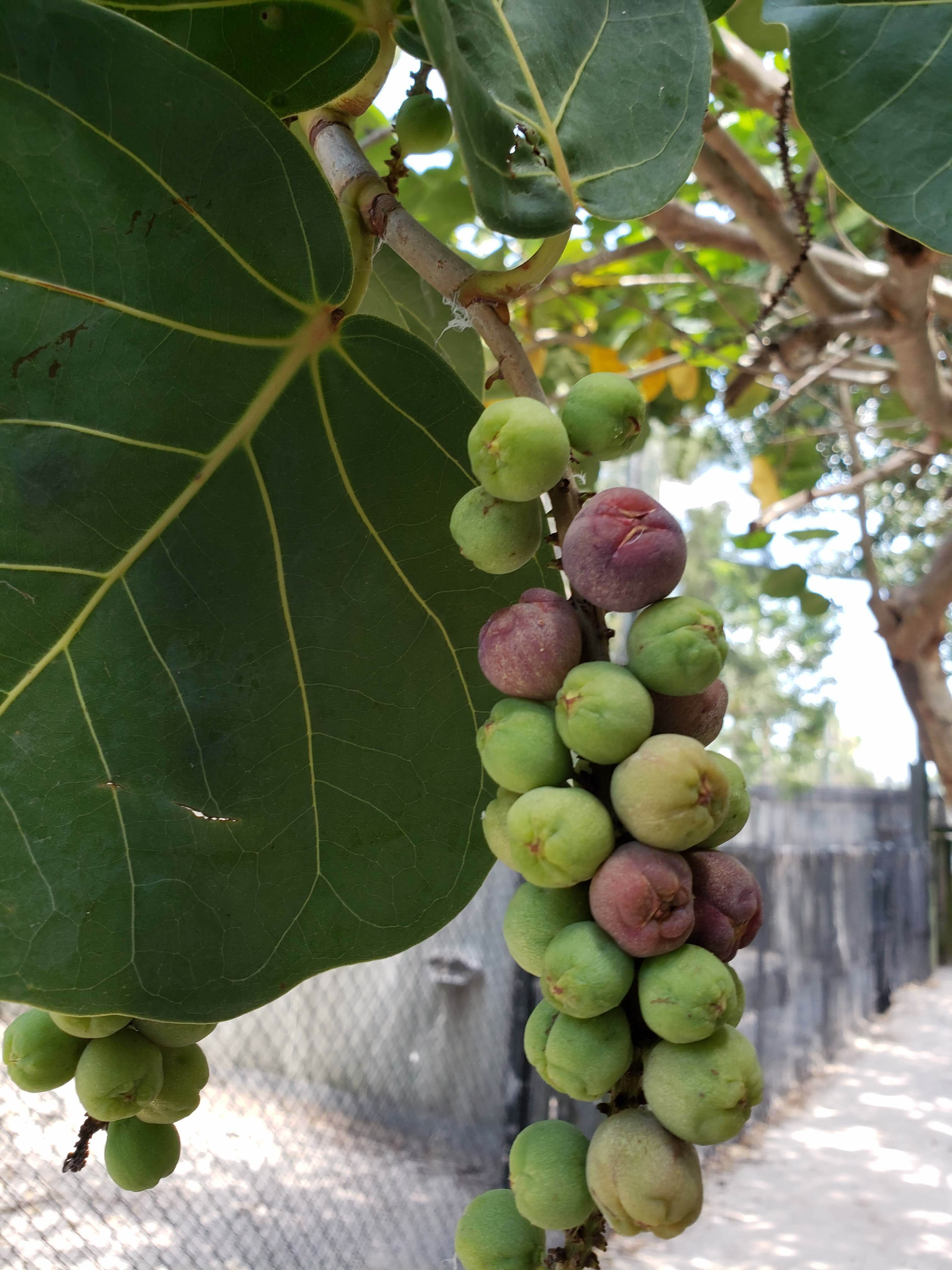 8. Dwarf Palmetto
Also known as Bluestem Palmetto. The blue / green foliage of the Dwarf Palmetto (Sabal minor) makes it an ideal landscape accent plant for Florida. For a tropical effect, you can grow it in shade or partial sunny areas. It can tolerate any soil condition, from consistently moist soil to constantly dry locations. (See Dwarf Palmetto on our online store here.)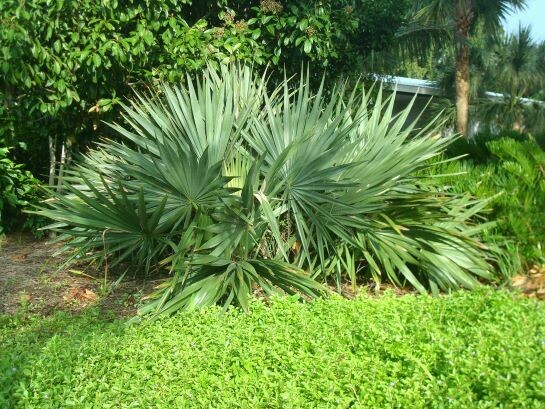 Other Drought Tolerant Plants:
Even if Florida goes through extended dry periods, you no longer need to waste water or run up large water use bills and your yard no longer has to suffer. Create a landscape design using any of these drought tolerant shrubs, palms, trees and flowers. Wilcox Nursery & Landscape is here to help you fully customize your design, keeping the local conditions in mind.