Muhly Grass
Muhlenbergia capillaris
Muhly Grass, Pink Muhly Grass, Hairgrass, Gulf Muhly
Shop Here
Elegant and majestic Muhly Grass. A standard ornamental grass, until Autumn approaches where Muhly Grass separates itself from the rest! An abundance of pink/purple, feathery inflorescence covers the grass for a few weeks in fall, fading to a golden color that is a foreshadowing of the cooler winter months to come.
Often a prized specimen of golf courses, resorts, parks, and homes for its fall show that never fails to impress both at a distance and when venturing for a closer look.
Muhly grass has been used by people of the Gullah Culture to make coiled basketry. 
A must have for a sunny dry spot in the landscape that will be the talk of onlookers!
Plant Specifications
Florida Native:

YES!

Florida Hardiness Zone:

8A-11

Light:

Full sun

Soil:

Well drained, moderate to dry soil. Adaptable to a wide range of soil pH.

Size:

3 feet tall by 3-3.5 feet wide

Flower:

Pink/purple inflorescence in fall

Fruit:

Pink/purple

Salt tolerance:

Moderately salt spray tolerant, tolerant of brief water inundation

Landscape form:

medium sized ornamental grass

Phenology:

evergreen, lives 3-5 years or longer

Wildlife Factor:

birds eat the seeds, used for cover by small animals and insects

Ecotype:

Flatwoods, marshes, scrubs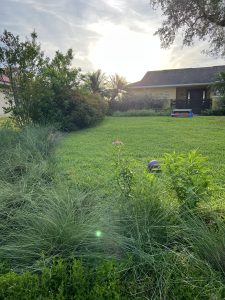 Landscape Use
Plant  Muhly Grass where it is sure to get lots of sun, but is well away from wet areas. When designed into a large park or golf course setting, large masses of Muhly Grass that flow and weave along paths roll with the topography of the land, adding a soft and welcoming feel.
In a residential setting, just one plant can make an impact. If room allows, planting in groups of three, five or seven can make a great sweeping flow to soften small spaces. Plant more when trying to recreate a scrub or meadow feel that is sure to invite plenty of wildlife.
Be careful of areas where water drains slowly, as this can prevent a healthy root system and lead to a shorter lived plant.
Establishment and Care
To establish, water the newly installed muhly grass often. It can generally thrive on regular rain events after about three months.
There is very little maintenance required for the Muhly Grass. Every year or two, a cut back of one third (⅓) to two thirds (⅔) can help remove an older appearance of the grass. Also removing the "duff," or spent grass blades that hang below the new growth can revitalize and make the plant like new. 
Occasionally Muhly Grass can invite a common pest called the Mealybug. First try a hard stream of water to wash off the pest. If it persists, apply a neem oil to the affected areas.
Companion Plants
Coontie
Blazing Star
Tropical Sage
Dune Sunflower
Blanket Flower
Bee Balm
Chapman's Goldenrod
9- This plant is tough! Try planting this when nothing else seems to work, or for those lacking a green thumb!