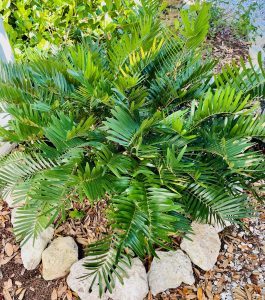 Coontie
Zamia floridana or Zamia integrifolia
Coontie, Seminole Bread, Coontie Palm
Shop here
Florida's tough plant! The coontie is a native evergreen cycad of southern and central Florida where it boasts a palm-like appearance, tolerance of any light conditions, and extreme drought hardiness.
The Native Americans processed the coontie's starch reserves (caudex) to create a flour, receiving the name "Seminole Bread." Settlers then harvested the coontie to near extinction, and it has since made a comeback as a tough and beautiful landscape plant.
It is also the larval host plant for the endangered Atala Butterfly, more commonly seen in South Florida.
WARNING, the Coontie is highly toxic if ingested, monitor pets in the yard when Coonties are in the landscape.
Plant Specifications
Florida Native:

YES!

Florida Hardiness Zone:

9A-11

Light:

Full sun, partial shade, full shade

Soil:

Well drained, moderate to dry soil. Acidic to neutral pH.

Size:

3 feet by 3 feet

Flower:

N/a

Fruit:

Orange/brownish cones

Salt tolerance:

Moderately salt spray tolerant, tolerant of brief brackish water inundation

Landscape form:

small shrub

Phenology:

evergreen, long lived

Wildlife Factor:

larval host of Atala Butterfly and Echo Moth, cover for small birds and mammals

Ecotype:

Upland hardwood forests, pine forests, coastal hammocks, shell middens.
Landscape Use
In the landscape, the coontie makes for a bold yet fine textured small shrub. Its unique foliage resembling palm fronds or fern allows it to mix well with a wide variety of different companion plants. Use it in formal gardens as a rolling mass, or in more organic, free flowing gardens to capture the elegant mature growth of the foliage.
Use the coontie in areas with full sun all the way to full shade. Avoid areas of standing water or poor drainage as the coontie will not tolerate prolonged moisture and slow drainage.
Coonties are slow growing, so have patience and give them time and space to fill their location. Oftentimes, young coonties planted from one gallon container pots will drop leaves during the first year and look as though they've died. This is normal, and in most cases it is just fine and will flush out with new growth.
Consider using Coonties as a backdrop to small trees or in the toughest parts of the landscape where nothing else seems to grow.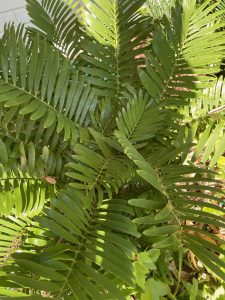 Establishment and Care
To establish, water the newly installed coontie often. The coontie can generally thrive on regular rain events after about four months.
There is very little maintenance required for the Coontie. Trimming is unnecessary  and will actually take away from the beauty  of the Coontie.
Occasionally coontie can succumb to scale. Apply a neem or horticultural oil to kill the scale. On more severe infestations, prune away affected foliage. Rarely does scale kill coontie.
Companion Plants
Tropical Sage
Wild Petunia
Hammock Twinflower
Snowberry
Silver Buttonwood
Southern Live Oak
Cabbage Palm
Muhly Grass
10- This plant is tough! Try planting this when nothing else seems to work, or for those lacking a green thumb!