Myrsine
Myrsine cubana
Myrsine, Colicwood
Shop Here
This central and south Florida large shrub is a versatile plant choice for most yards and light exposures. Its large, glossy leaves and dense growth habit make it attractive for a diverse range of aesthetics and practical uses in the garden or landscape.
The flowers of this one are mainly inconspicuous but make way for a berry that the birds will love. Because of the larger size of the myrsine, many small animals will find shelter in among its many branches and dense coverage.
Opt in for this one instead of the common non-native hedges as it will achieve the same successes while promoting local wildlife and reduced water and fertilizer needs.
Beware, when used as a screening hedge to hide from neighbors, you may actually invite more unsolicited conversation for everyone wanting to know what they are and where you got them!
Plant Specifications
Florida Native:

YES!

Florida Hardiness Zone:

9A-11

Light:

Full sun, partial shade, full shade

Soil:

Moderately moist to rarely dry. Poor soil tolerance. May require more water in full sun.

Size:

Up to 15 feet tall and no more than 8 feet wide.

Flower:

Inconspicuous white

Fruit:

Black

Salt tolerance:

Tolerant of salt spray. Not tolerant of salt inundation.

Landscape form:

Hedge or screening plant

Phenology:

Evergreen, long lived shrub

Wildlife Factor:

Fruit attractive to birds, shelter for small animals

Ecotype:

Hammocks, pinelands, sloughs, moist areas of pine rocklands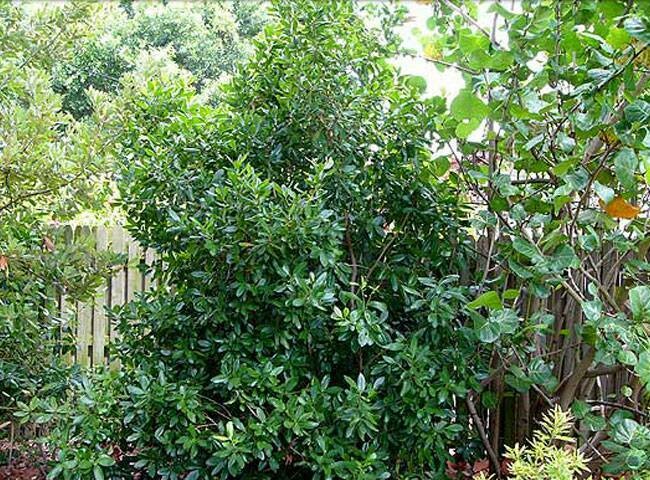 Landscape Use
Use myrsine where height is needed but not necessarily width. Because it is taller than it is wide, myrsine is a great choice for dense screening, especially in tighter locations where you may want to retain some space.
Large, glossy green leaves allow the myrsine to fit into a more tropical landscape combined with colorful native and Florida-friendly tropical plant material.
Myrsine can be planted in deep shade all the way to full sun. Although it tolerates full sun, the leaves may become smaller and it may require more water to thrive, especially in drier periods.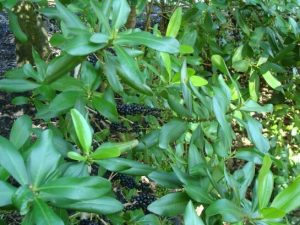 Establishment and Care
Myrsine will require about 3-6 months of frequent watering to establish properly. It is usually able to fend for itself after about one year, except for periods of drought where weekly watering is necessary to continue looking its best.
Myrsine can tolerate frequent pruning or shearing, but planted in the right location it will require very little maintenance. 
Fertilizer requirements would be low to none on this poor soil tolerant plant. 
Companion Plants
Coontie
Shiny Coffee
Dwarf Coffee
Softleaf Coffee
Bahama Coffee
Marlberry
Rouge Plant
Hammock Twinflower
7- This plant will work for most! When planted in the right location, this one is sure to thrive!