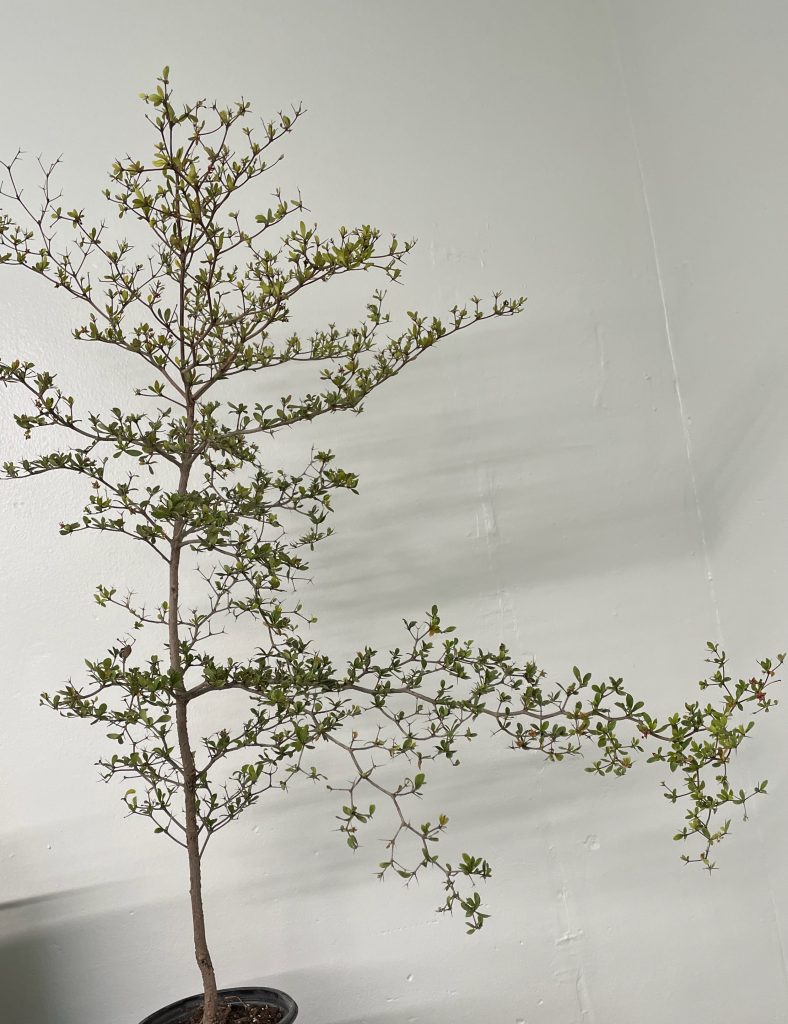 Spiny Black Olive
Terminalia molinetii
Spiny Black Olive
The Spiny Black Olive is a lesser known native of South Florida documented in the wild of Lee and Miami-Dade Counties. Other than some historical documentation of wild specimens, there is very little information on its landscape uses.
As its name suggests, the Spiny Black Olive is covered in spines. This makes it a suitable nesting and foraging tree for local bird populations who will find plenty of food and safety in its many thorny branches.
It's high salt tolerance makes it a beautiful specimen for coastal settings and adapts easily to container gardens. You will more often see the Spiny Black Olive planted as a bonsai because of its naturally geometric branching.
We hope to provide more information on this one in the future as it works its way into our landscapes. A lot of unique potential for this one though!
Plant Specifications
Florida Native:

YES!

Florida Hardiness Zone:

10-11

Light:

Full sun to partial shade

Soil:

Somewhat moist to very long dry periods. Humus and limerock soils.

Size:

8-15 feet tall and wide, can reach heights of 25 feet in optimal conditions

Flower:

Small, red flower

Fruit:

Orange

Salt tolerance:

Tolerant of occasional saltwater inundation, moderate tolerance for salt spray.

Landscape form:

Small tree, specimen planting, great bonsai specimen

Phenology:

evergreen, long lived tree

Wildlife Factor:

Local birds eat the seeds, flowers attract many pollinators.

Ecotype:

Rockland hammocks, mangrove swamps, maritime forests, prairies.

Availability:

Rarely available in retail nurseries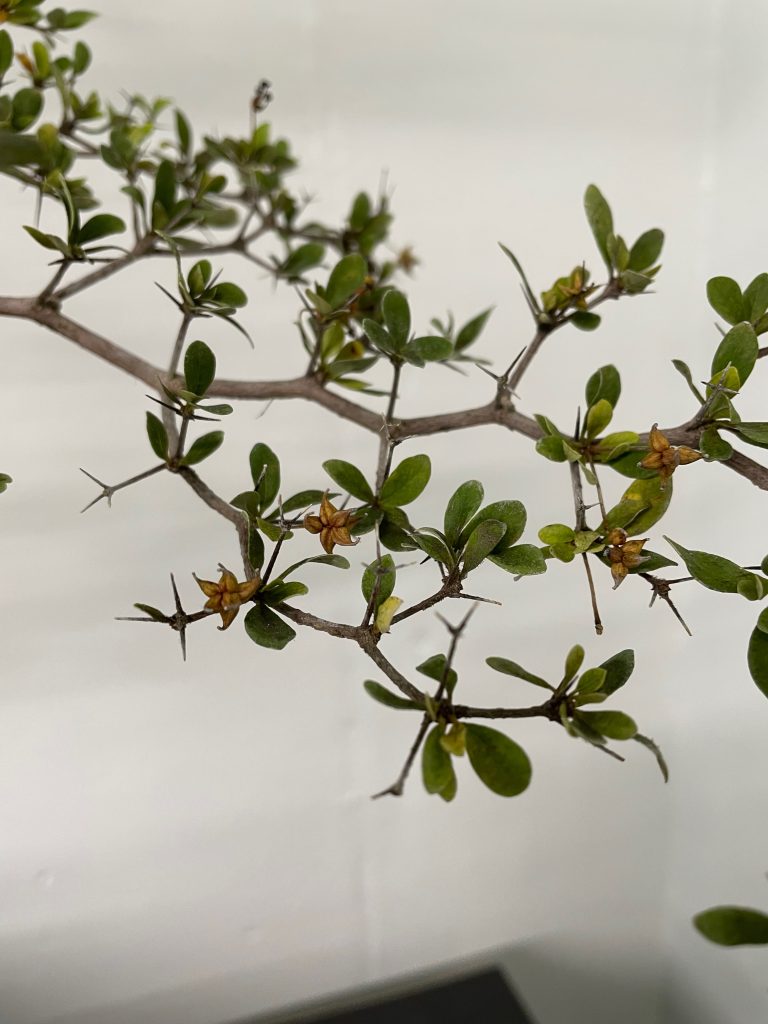 Landscape Use
We hope to see the Spiny Black Olive used in the landscape more, but we anticipate it would make an amazing specimen planting. Its naturally geometric shape will work well in formal and informal settings, but will likely look best as a single planting or in isolated groups of no more than three.
It would make an excellent addition to those seeking to invite nesting and foraging birds to the landscape. Just don't forget to add larval host plants nearby to be sure baby birds have plenty to eat in the safety of this tree.
Most cultivated documentation of the Spiny Black Olive has it grown as a bonsai. Its wide range of soil conditions and unique branching form make it an optimal specimen almost immediately.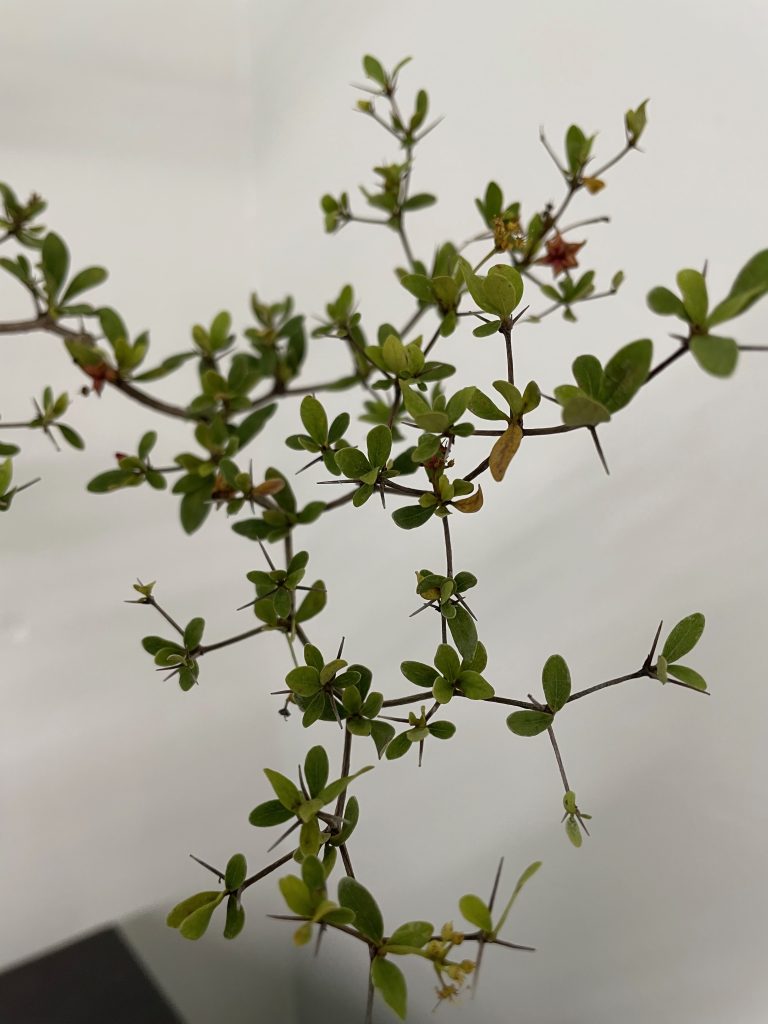 Establishment and Care
We do not have a lot of information on its establishment and care. We hope to provide more information on this. We can speculate it is relatively easy to establish due to its wide range of soil conditions, hardiness in coastal settings, and slow growth habit.
Companion Plants
Gumbo Limbo
Green Buttonwood
Southern Live Oak
Spanish Stopper
Wild Lime
Beautyberry
Marlberry
Shiny Coffee
Coontie
Yellow Allamanda (Coastal Allamanda)
We are unsure! But we speculate it has the characteristics of a tough plant for the landscape.