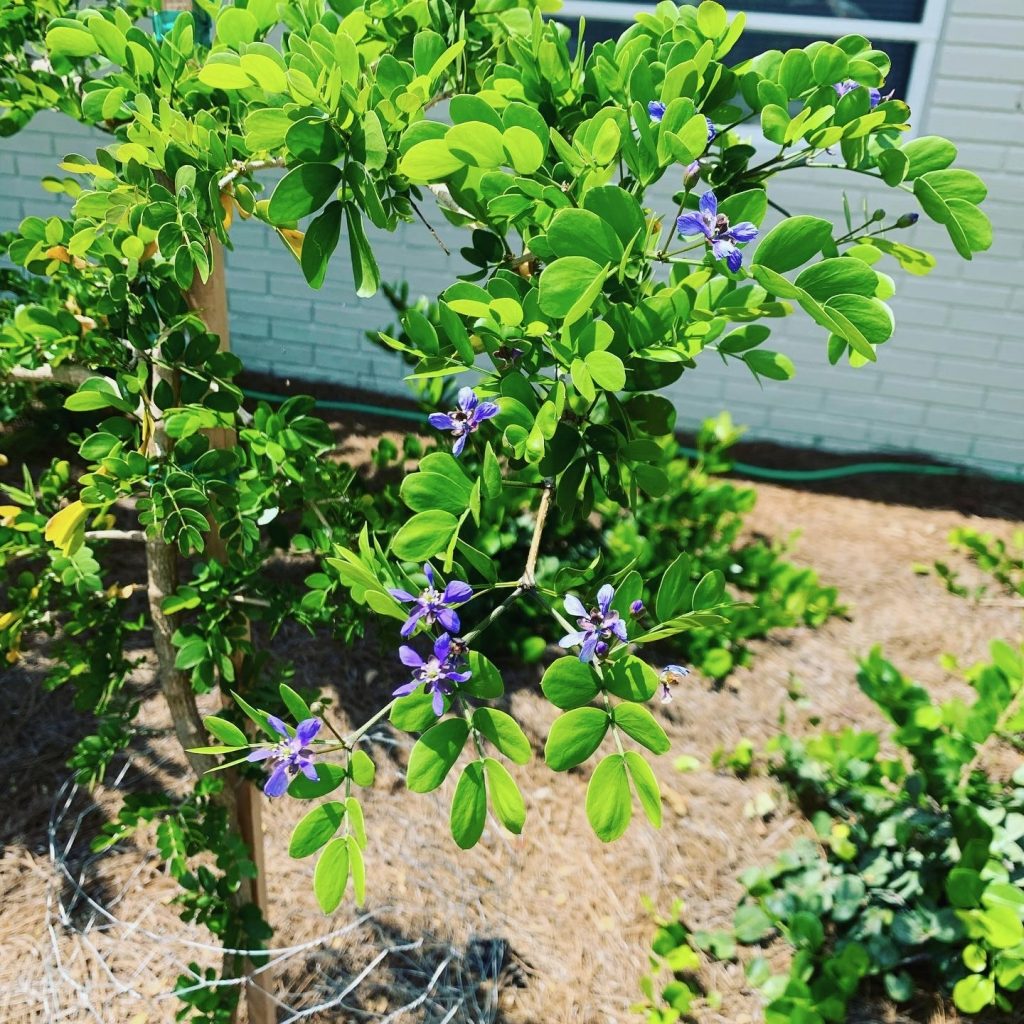 Lignum-Vitae
Guaiacum sanctum
Lignum Vitae, Lignum-vitae
Shop Here
The lignum vitae boasts one of the most striking and intricate purple flowers among any other small to medium sized native trees. Blooming heaviest in spring, a well established and healthy tree will provide hundreds of purple flowers that fade and slowly transform into a small, gnarled orange seed.
Lignum vitae is very slow growing as little as one inch per year, and creates a very dense, hard wood. This made it suitable for many human uses most notably prop shafts on boats and bowling pins. Unfortunately, harvesting this specimen almost wiped them out entirely except for a small population that is now protected on Lignum Vitae Key State Park, only accessible by boat and appointment.
Add this one to your landscape to not only make a statement specimen piece, but also as a historical addition.
Plant Specifications
Florida Native:

YES!

Florida Hardiness Zone:

9B-11

Light:

Full sun to partial shade

Soil:

Somewhat moist to very long dry periods. Humus and limerock soils.

Size:

8-15 feet tall and wide

Flower:

Purple, warmer months but mostly in spring

Fruit:

Orange

Salt tolerance:

Tolerant of occasional saltwater inundation, moderate tolerance for salt spray.

Landscape form:

Small tree, specimen planting

Phenology:

evergreen, long lived tree

Wildlife Factor:

Local birds eat the seeds, attracts many pollinators, larval host plant for lyside sulphurs.

Ecotype:

Rockland hammocks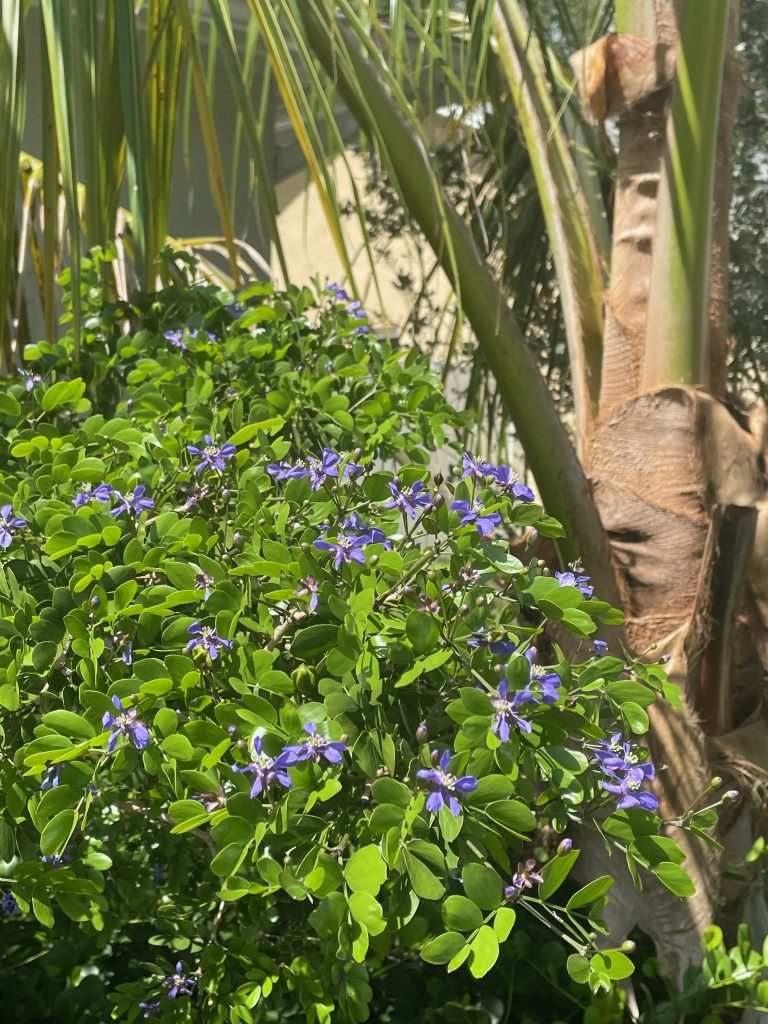 Landscape Use
Use Lignum Vitae where it is sure to garner the eyes of onlookers. You do not want this one hidden in the back of a property or side yard, it should be front and center.
Due to its slow growth habit, accompanied by a higher price tag, the lignum vitae should be well considered before planting. Some specimens will only grow up to an inch in their first few years. Full sun and well drained soils will help it to thrive.
This specimen tree should hold flexibility in its intended look and may not be suitable for formal landscapes requiring an obedient and uniform tree. The branching can be irregular and overtime, the trunk may lean a bit rather than perpendicular to the ground. But this gives it character and another good reason for onlookers to gaze upon it in awe.
Establishment and Care
In the right location, the lignum vitae will be an easy and low maintenance specimen tree. For establishment, be sure the site is well drained and accompanied by companion plants with the same watering needs.
The lignum vitae will need routing water the first three to six months before it can thrive on its own. It is more forgiving of a missed watering than most other plants.
Sometimes, yellowing in the leaves can occur, a signal that the lignum vitae needs some fertilizer.
Companion Plants
Geiger Tree
Keys Blackbead
Myrtle-of-the-River
Satinleaf
Coontie
Golden Beach Creeper
Muhly Grass
Red Tip Cocoplum
White Indigo Berry
9- This plant is tough! Try planting this when nothing else seems to work, or for those lacking a green thumb!