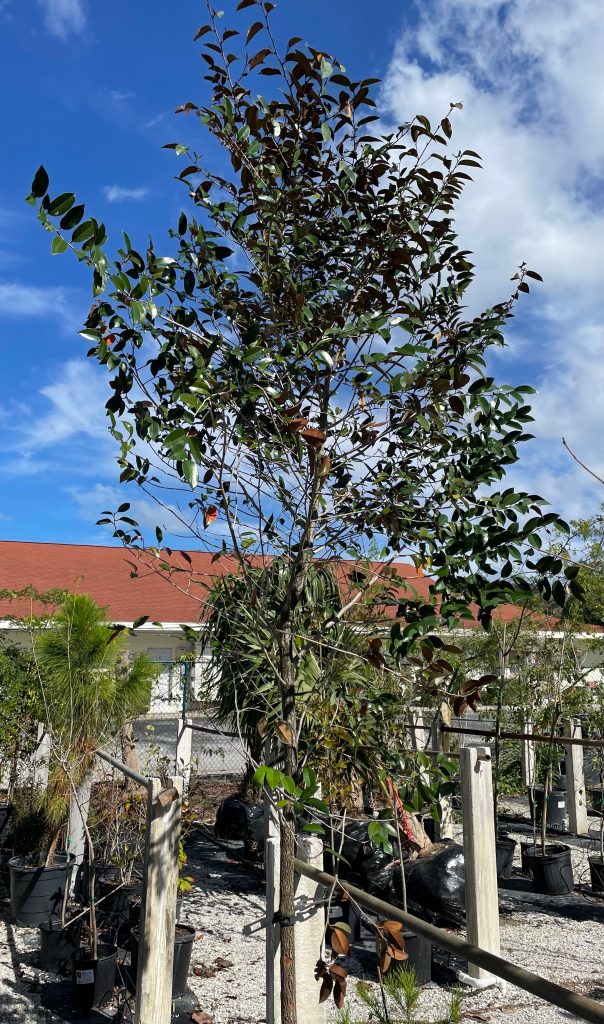 Satinleaf
Chrysophyllum oliviforme
Satinleaf, Satin Leaf
Satinleaf is a beautiful, medium sized South Florida tree graced by its interesting, two-tone foliage. The glossy green top side of the leaf contrasts nicely with the silky brown underside.
The slower growth habit of the Satinleaf makes its branching and trunk structure very strong, giving it a high wind resistance, great for windy locations and durable in hurricanes. 
The flowers of the Satinleaf are fragrant and virtually year round, slowing in the colder months. The flowers then give rise to berries eaten by local wildlife. 
Be careful, the Satinleaf is cold sensitive. Freezing temperatures can kill the above ground growth, but will typically resprout from the root.
Plant Specifications
Florida Native:

YES!

Florida Hardiness Zone:

9B-11

Light:

Full sun to partial shade

Soil:

Usually moist soils to very long dry periods . Adaptable to a wide range of soil pH but prefers slightly acidic soils.

Size:

20-40 feet tall, and 10-25 feet wide

Flower:

White, year round, fragrant blooms

Fruit:

Purple, black

Salt tolerance:

Not tolerant of salt inundation, low tolerance of salt spray.

Landscape form:

medium sized tree, loose growth habit

Phenology:

evergreen, long lived tree

Wildlife Factor:

birds and wildlife feed on the fruit, pollinated by insects

Ecotype:

Tropical rockland hammocks
Landscape Use
The Satinleaf makes a great loose growing and upright tree that can grace the corner of a home or building. It will not provide much screening or view obstruction making it a great fit for placement around showy architecture or outdoor structures.
Its high wind resistance also makes it a suitable option near structures where safety and risk is of higher concern. But it is slow growing, so make sure you have plenty of time to enjoy the growth of the tree or select a larger specimen to start out with.
Place the Satinleaf near walkways or social areas, as the fragrant blooms will provide subtle and enjoyable floral aromas without becoming overwhelming.
Establishment and Care
The Satinleaf can be tough to establish at times, although seedlings propagate and establish quite effortlessly. Be sure the soil is not perpetually wet, but that it receives enough water during establishment to develop a large, drought tolerant root system.
Water regularly the first month, and monitor leaf color each month there after. Yellow, droopy leaves can be a sign of too much water, especially when on the older growth. Crinkly, dry leaves can be a sign of not enough water, especially when on the new growth.
Companion Plants
Geiger Tree
Keys Blackbead
Myrtle-of-the-River
Lignum Vitae
Coontie
Snowberry
Myrsine
Red Tip Cocoplum
White Indigo Berry
5- This plant is tough but difficult to establish! Try this one out if you can keep an eye on its needs, but once established, it should be relatively easy!