Yellowtop
Flaveria linearis
Yellowtop, Narrowleaf Yellowtops, Yellowtop Flower
Shop Here
The beautiful mounding growth habit of this wonderful Florida wildflower will have you wanting more. Yellowtop is native to all coastal counties of central and southern Florida where it can tolerate significant salt spray and brief inundation from brackish waters.
This often overlooked wildflower puts on a great show in fall and winter when it bursts out of its grass-like state with hundreds of yellow flowers that attract a wide and diverse range of butterflies, moths, and bees.
You will enjoy these clouds of yellow flowers gracing your garden.
CAUTION: You may like this wildflower too much!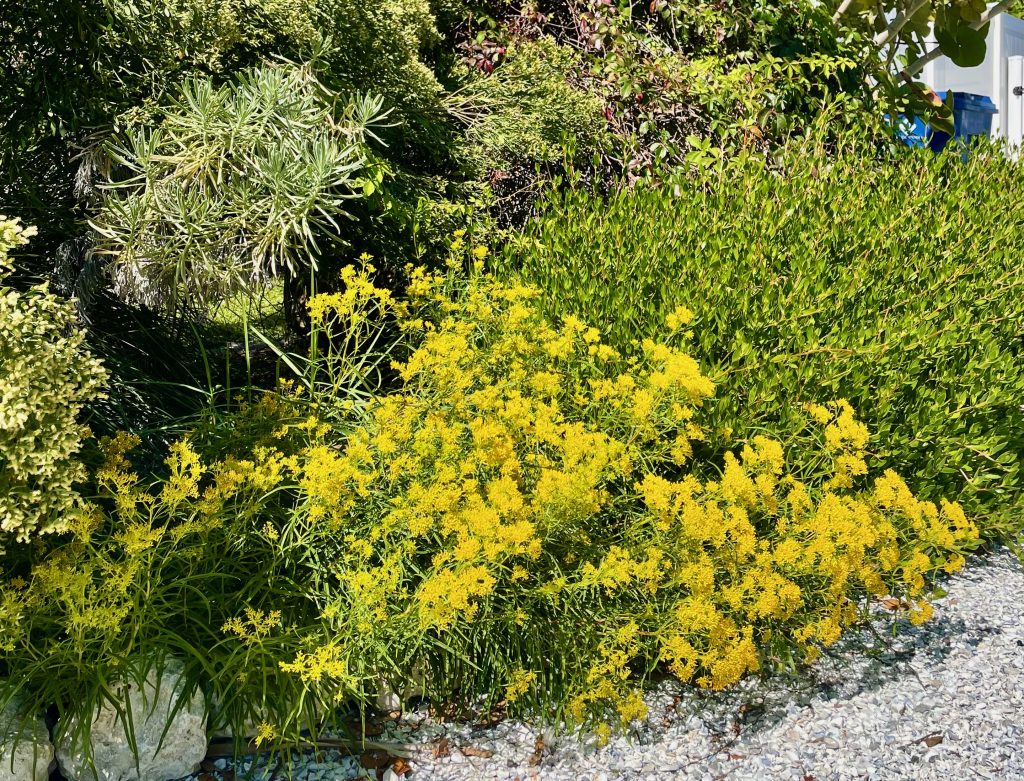 Plant Specifications
Florida Native:

YES!

Florida Hardiness Zone:

8B-11

Light:

Full sun

Soil:

Somewhat moist soils to somewhat dry soils. Adaptable to a wide range of soil pH.

Size:

1 foot tall by 2 feet wide

Flower:

Yellow in fall

Fruit:

NA

Salt tolerance:

Very high salt spray tolerance, and tolerant of brief water inundation

Landscape form:

Perennial wildflower, low-growing

Phenology:

Evergreen, 2-3 year lifespan

Wildlife Factor:

Incredible nectar source

Ecotype:

Depression and basin marshes, wet prairies, pine rocklands, edges of mangroves, disturbed areas.
Landscape Use
This underutilized wildflower can grace most any garden setting. Use in a more forward setting where it can be allowed to grow snuggly among other plant species. Grouped with other wildflowers to provide fall color, or work in with greenery where it will stand out when in bloom.
Yellowtops' very fine texture, especially when in bloom, allows it to work well with medium to coarse textured plants and material, especially limestone and shell. But it's fine texture also compliments other fine textures like grasses and saltbush.
Plant in areas of full sun with moderate soil moisture. Cut back after blooming to promote regrowth for next year. The yellowtop often begins to look its best after year one.
Establishment and Care
Yellowtop is a very hardy wildflower when in the right location. Establishment from a one gallon container usually takes about 1-2 months where it can then receive weekly watering. If there area is too dry though, the yellowtop may survive but not thrive.
Cut back after flowering in late fall or winter to promote new growth for next year.
It will reseed in the yard, but not considered aggressively.
Companion Plants
Saltbush
Coontie
Golden Beach Creeper
Dwarf Fakahatchee Grass
Christmasberry
Sea Lavender
7- This plant will work for most! When planted in the right location, this one is sure to thrive!